A Few Accomplishments
Through the efforts of our volunteers, Historic Albuquerque Inc. successfully completed the following activities:
Co-sponsored Special Collections Library speaker series, called "People Create Cities," focused on the many different ethnic groups that settled in Albuquerque. Currently, co-sponsoring the library's Making Change speaker series. For more information on the speaker series, click here.
Working with the City of Albuquerque's Transit Department to develop historical trivia questions to be shown at the new rapid transit stations.

Created two Downtown Albuquerque walking tour brochures
Co-sponsored speakers for the 75th Anniversary of Historic Route 66 celebration
Developed a historic neon sign inventory with support from the Urban Enhancement Trust Fund
Produced the neighborhood history exhibits on Silver Avenue at Fifth Street with support from PNM
Co-hosted a statewide New Mexico Heritage Preservation Alliance Conference.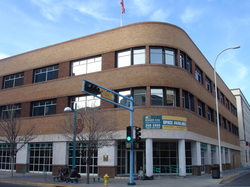 Worked, in partnership with the Albuquerque Historical Society, to develop a Downtown Walking Tour. HAI put together the information about Albuquerque's downtown area and significant buildings. This information was used to train guides who now provide walking tours each Saturday morning between 10AM and Noon along Central Avenue between 1st and 8th Streets. Tours meet at the southwest corner of Central Avenue and 1st street in front of the Tucano's Restaurant.
---