First Americans to Visit the Villa of Albuquerque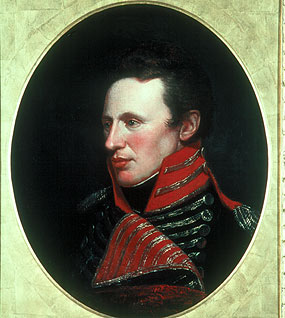 When the United States made the Louisiana Purchase from France in 1803, it brought the new American nation right to the doorstep of New Spain's holdings in New Mexico. The exact boundary of New Spain's holdings in tierra incognita was not known and that was in Spain's favor. Things were changing. Spain had always required that all trade in New Mexico had to go through Chihuahua and that required a grueling 500-mile trek south. The Chihuahua merchants took advantage of that restriction and it was not popular with merchants in New Mexico. But the stern royal laws were enforced by soldiers and the Kings official representatives in New Spain.

In 1806, 23-year-old Captain Zebulon Pike (at the time) was ordered to explore the headwaters of the Arkansas and Red Rivers as they were thought to be the western boundary of the Louisiana Purchase. After wintering at the foot of the Rockies in 1806, the small party of explorers constructed a small stockade on the banks of the Conejos River, a tributary of the Rio Grande. While he professed to be in the United States, the Spaniards sent a force of 100 soldiers who marched from Santa Fe and escorted the exploration party down the Upper Rio Grande Valley to meet the Governor in Santa Fe. The Governor Joaquin Real Alencaster was an excellent host and the Americans were allowed to keep their possessions, their weapons and were free to wander around the streets of the capital.

The decision was made to send Captain Pike to Chihuahua for further questioning "as guests of the Spanish Government" and not as prisoners. So, with an escort of Spanish soldiers, the group headed south from Santa Fe reaching the Villa of Albuquerque during the first week of March of 1807. Therefore, Pike and his entourage became the first Americans to see and visit Albuquerque.
---
---
Thanks to Marc Simmons "Albuquerque;" Chapter 5; pages 125-127