Albuquerque's Huning Castle Neighborhoods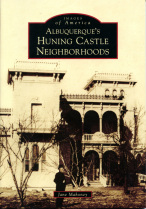 As a 21-year-old German immigrant, Franz Huning could not have envisioned his future in New Mexico when, in 1849, he signed on as a ""bull whacker"" for a wagon train heading down the Santa Fe Trail. From his beginnings as a clerk in Albuquerque's Old Town, Huning's entrepreneurial talents flourished over the next half-century. He took on the roles of merchant, flour mill operator, and land speculator, helping to secure Albuquerque as a division point with a depot, offices, and major repair shops for the Atchison, Topeka & Santa Fe Railway. Huning's 700-acre estate, home to the once-legendary but now-demolished Castle Huning, fronted Albuquerque's main thoroughfare midway between Old Town and the bustling new downtown one mile east. It was a front-row seat to the city's development after the flood-prone Rio Grande was stabilized. Huning's former estate is now home to fine, diverse homes near the Albuquerque Country Club, as well as historic Route 66, Tingley Beach, the zoo, the Little Theatre, and a Christmas Eve luminaria tradition.

Jane Mahoney is an Albuquerque freelance writer with a love of rambling and history. A journalism graduate of the University of Kansas, she grew up on the high plains of northwestern Kansas and accompanied her father on his explorations of the Butterfield Overland Despatch. Jane is a member of Historic Albuquerque Inc. and recently wrote a book about the Albuquerque Country Club.
---