Native American History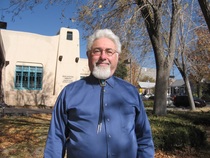 Joe Sabatini
is a retired librarian who was the branch manager of the Special Collections Library of the Albuquerque Bernalillo County Library during the Albuquerque Tricentennial. He worked with Nancy Tucker and other collectors to assemble a major exhibit of postcards for a "Postcard History of Albuquerque." Some of the postcard images from the exhibit are available from the Library's website:
http://abclibrary.org/friendly.php?s=postcards
Joe currently volunteers at the Archives & Library of the Indian Pueblo Cultural Center. He is working on a project to catalog a collection of 2,000 postcards about Native peoples of the Southwest. He also gives tours at the Center and presents illustrated historical lectures on several Pueblo Indian history topics. In addition, he provides illustrated talks on the history of North Fourth Street and the evolution of motels in Albuquerque.
---