Business Histories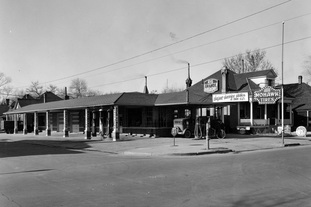 Super Service Station & Tire Co. 1931
In 2006, when J.C. Baldridge Lumber Company, founded in 1881, announced it was being bought by an out-of-town corporation, HAI members were motivated to collect the history of such long-time companies before it is lost. These businesses brought critcal goods and services to our citizens, thus enabling our city to grow. Their stories chronicle the history of Albuquerque.
We began a project to collect and preserve the history, along with photographs, of these well-known, and not so well known, Albuquerque businesses. These company biographies will be given to:
Albuquerque Museum
New Mexico State Records and Archives
University of New Mexico Center for Southwest Research
Albuquerque Special Collections Library
---
To date, Historic Albuquerque has collected the history of over 90 long-time businesses at
no cost
to the project participants. Some of the companies include:
J.C. Baldridge Lumber Company
Berger Briggs Real Estate
Darrow's Ice Cream
Durand Motor Company
Kistler Collister department store
Old Town Basket Shop
Ruppe's Drug
Sabino Food Center
Springer Transfer Company
Super Service Station and Tire Company
Westernair
If your company has been/was in operation for at least 50 years (it does not have to be currently in business), and you would like to contribute your company's information to our project, please
contact us
.
Photo above was provided by Mario Menicucci.