Albuquerque: Then and Now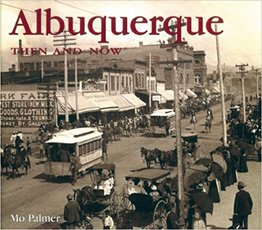 Part frontier town, part cosmopolitan city, Albuquerque has a proud heritage more than 300 years in the making. Named to honor a Spanish Duke, Albuquerque is New Mexico's largest city and the new star of the best-selling Then and Now series.

• Albuquerque has been home to Navajo Indians, a U.S. Army outpost during the Mexican-American war, a thriving wool and lumber center, and a key stop on the Atlantic-Pacific railroad line.

• Side-by-side then-and-now photographs showcase landmarks like Kistler's department store (demolished to make way for new construction), the Old Bernalillo County Courthouse (rumored to be haunted), and the beautiful California Mission-style Alvarado Hotel, considered the finest railroad hotel of its time (it had electricity!).

• Images of San Felipe de Neri Church, the first building erected in the settlement, show how much Albuquerque has changed and how much it has stayed the same. The original adobe chapel has been enlarged and rebuilt many times, but its thick adobe walls remain.

• From Old Town across the tracks to New Town, you'll discover a thriving, modern city filled with remarkable architecture and culture.


Mo Palmer is a native New Mexican who has lived in Albuquerque fifty years. She holds a Masters of American Studies with concentrations in regional and local history. Mo worked at The Albuquerque Museum for fifteen years, as a volunteer, an intern, and as Photo Archivist, curating a 100,000 item historical collection. She wrote a monthly history column for The Albuquerque Tribune and taught New Mexico History to seventh grade students at Sandia Preparatory School. Mo was a founder member of Historic Albuquerque Inc. and is currently on the organization's Board of Advisors.
---