Historic Fairview Memorial Park
In November of 1882, a letter was written by Elias Stover, first president of
the University of New Mexico, and was printed in the Albuquerque Morning
Journal, informing the Board of Trade Association that individuals were
burying their friends along the side of a sand hill which was never intended to
be a cemetery. Thus, we have the humble beginnings of Fairview Memorial Park.
Not too long after this letter was published, a group of prominent local
individuals got together and formed the Albuquerque Cemetery Association. The
first documented burial at what became the Fairview cemetery was on February 23,
1881: Mosheim Perea, a young lad from Corrales.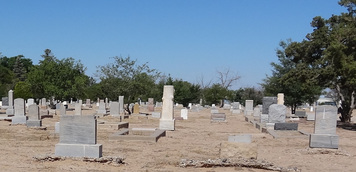 The original section reflects no funds set up for perpetual care.
Fairview Park evolved in three phases, each reflecting the tastes of the times of its creation. Wanting to mimic cemeteries on the east coast, the first (north) section was designed in the Victorian style of the late 1800s with romantic landscape and long curvy roads. Individuals who did not own a family estate were interred in the northwest area of this section in long rows from 1881 to 1908. During these early years in Albuquerque's history, many a child and infant died from disease or were stillborn and were buried in a special area for these unfortunate children. This section is being administratively split out as a non-profit entity and named
Historic Fairview Cemetery
.
In 1892, the Albuquerque B'nai B'rith lodge incorporated the Jewish Cemetery Association and acquired two acres of land in Albuquerque's east mesa. In 1902, Congregation Albert acquired that land which became the "Congregation Albert Cemetery" subdivision of Fairview's north section.
---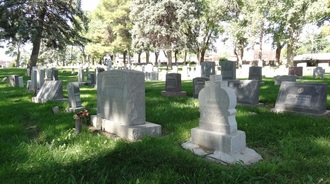 Newer section with funds for perpetual care.
The middle section of the park, developed in the 1930s by the Strong family, long-time caretakers of the park, was built in the City Beautiful design style with a grand symmetrical, geometric pattern of lanes. This subdivision included three perpetual care tree-lined garden areas with a "modern sprinkling system." Well-to-do families built in this section mausoleums designed, as advertised in 1931, in "the Kingly Way since the Pyramids of Egypt." More than a few who had loved ones buried in the older areas asked to have the remains moved to this fine-looking new locale. The southern-most section of Fairview reflects a more modern style with no overall theme, but with groupings of burials and ground-level markers.


During the early 1900's, as more people came to Albuquerque either to start a new life or to find the cure at a tuberculosis sanatorium, more space for burials was needed. Many who relocated did not make it and ultimately died from tuberculosis. The records show grave after grave listing this devastating disease as the cause of death. Many of those who died were poor and buried in pauper graves right next to those who were the known in society, wealthy socialites. Death shows no mercy; making it a sad time for all stricken by this disease.

In the United States, cremations became popular in the 1920s and 30s. If an Albuquerque family wanted a loved one to be cremated, the deceased had to be shipped to Denver or Phoenix and his cremains were returned to our city. So, in 1934, Fairview opened its doors to New Mexico's first crematory. It was located in the middle section of the cemetery. The hollow tile and white stucco building is a beautiful adaptation of California mission style, designed by Brittelle and Ginner, and constructed by Kilbourne L. House. The crematory
remained in this structure until it was damaged by a small fire in 1982. The building was then internally redesigned to hold offices, a family consulting room and the columbarium for cremains. The crematory was relocated to a building just east of its original site.

Fairview Memorial Park is and always has been a very inclusive public cemetery where so many of Albuquerque's communities have come together for their final resting place. It is an important part of Albuquerque history with over 30,000 burials, uniting families and strangers both past and present.

By Susan Schwartz, Fairview Historian


---